BEAD COMPARISONS BY MANUFACTURER AND SIZES
These beads were all scanned, side by side, at the same time. These are the actual differences in sizes. The top pictures are done to show the differences in size, shapes and holes. Also the finishes. The bags of beads show differences in shapes too. We sell Matsunos and Miyukis at White Jay Beadery


| | | | |
| --- | --- | --- | --- |
| | | | |
| Delicas - 11s | Miyuki - 11s | Matsuno - 11s | Czech - 11s |
| | | | |
| Matsuno - 15s | Charlottes - 13s | 3-cuts | Hex |
These are comparisions of size 11 seed beads by different manufacturers.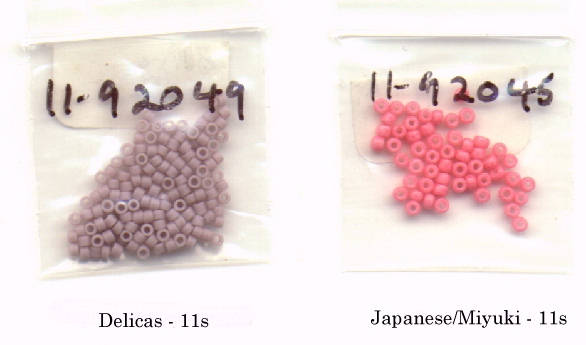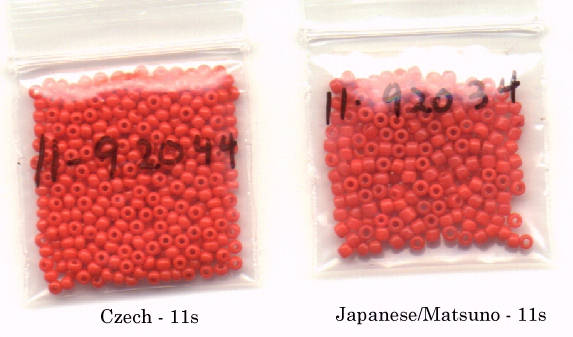 Here are peyote stitched hearts done in 3 different type size 11 seed beads and size 15 seed beads. The heart design is from Suzanne Cooper's pattern packet, "Itty Bitty Beauties" (Six Hearts mini bag). Be sure to see her other patterns at Suzanne Cooper
Suzanne graciously granted me permission to use her mini heart amulet bag pattern for my demo. Also, visit Cathy Lampole's site and see her bead comparisons. She compares, 3 bead types, in peyote stitch in size 11 miyuki, size 12 Delicas and size 15 Miyukis.




These are comparisons of vial sizes:
The larger tube holds 5 grams, it has size 11 Japanese Miyukis, the smaller one is the sample size sent from General Bead. This one holds size 11 Delicas.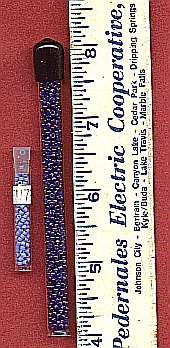 Back to Marylyn's Beadworks
WELCOME!! Visitor #
Please visit often.

HOME PAGE
Page design by Marylyn Letson ©1997